Call for papers – close 21st May 2021
ASLIA is calling for abstract submissions for our ASLIA National Online Conference, 10th-12th September 2021.
Our theme this year is Strength in Adversity.
This call for papers is extended to a broad range of stakeholders including; Translating & Interpreting, and linguistics, researchers from Australia and overseas, signed and spoken language interpreters and trainers, members of the Deaf community, providers of interpreting services, sign language teachers and regulatory bodies.
Please click here to download more information on our call for papers and how to submit.
The ANC2021 Keynote: Professor Alys Young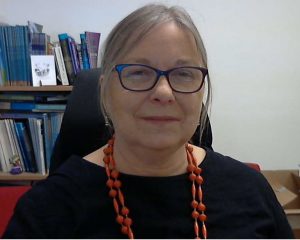 We are pleased to say that Professor Alys Young PhD FAcSS will still be our keynote in 2021. Alys  is a social scientist who for the past 30 years has specialised in applied health and social care research specifically concerning deaf people across the lifecourse.  She has led numerous multi-site research studies focussing on health and wellbeing, the organisation, delivery and reform of services to promote equality(ies), and innovative research methodologies.
She leads the SORD (Social Research with Deaf People) group at the University of Manchester in the UK which is a sign bilingual team of deaf and hearing applied social scientists and is Professor of Social Work and Senior Fellow of the NIHR School for Social Care Research at the University of Manchester, and Visiting Professor at the Centre for Deaf Studies at the University of the Witwatersrand in South Africa.  Author of over 150 published works supported by research grant income in excess of $20M AUD, she was conferred a fellowship of the Academy of Social Sciences in 2015 for her thought leadership in this field of study and in 2016 she won the Times Higher Education Award for Outstanding Postgraduate Research Supervisor of the Year.
In recent years she has become particularly interested in the impact of professional behaviours and interactions on personal wellbeing, individual agency, and the (re)production of structural inequalities within service delivery.  This interest extends to sign language interpreters as actors in resilient enabling change processes.