New Competency Standards for Working with people from migrant and refugee backgrounds- including deaf people
March 5, 2019
On Wednesday 27 February, the Migrant & Refugee Women's Health Partnership launched the new Competency Standards for Working with people from migrant and refugee backgrounds.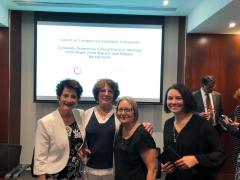 L-R  Patricia  ( Spanish/Eng CI ) Ranja(Arabic/ Eng CI and TRAC member) Sandi ( TRAC member) Gulnara Abbasova ( Exec Officer of Migrant and Refugee Women's Health Partnership  & TRAC member)
These Standards and guidelines are applicable to working with all people who need to use a language other than English to access information and/or communicate effectively when accessing the Australian Health care system.
Go to
https://culturaldiversityhealth.org.au/competency-standards-framework/
Download these 2 excellent documents which are the result of hard work and extensive consultation.
Competency Standards Framework for Clinicians. Culturally responsive clinical practice: Working with people from migrant and refugee backgrounds – January 2019
Guide for clinicians working with interpreters in healthcare settings – January 2019
All health clinicians who use this information will find a great benefit to their work practices and outcomes for their clients.
Interpreters can use these documents to educate and inform Health Professionals about  Competency Standards for working with people from Migrant and refugee backgrounds, and also provide them with useful guidelines for doing so.
These documents include people who are Deaf or Hard of hearing and the use of Auslan and Deaf interpreters.