Educational Interpreting in the Tertiary Setting
Livestreamed
Hosted by ASLIA NSW/ACT
Sun 14/03/2021 | Starts: 2:00 pm | Ends: 5:00 pm | State: NSW | Venue: ASLIA Live (via Zoom) only
SOLD OUT – please email nswtreasurer@aslia.com.au to join the waitlist for this event.
This workshop is for established and aspiring Educational Interpreters working in the tertiary setting. Interpreting at TAFE's and university has some unique challenges and requirements for the interpreter.
Let's get together (virtually) and look at some of the elements of Auslan/English language and what constitutes appropriate support of a deaf student in a tertiary setting.
The format will be lecture with time for discussion for real life scenarios.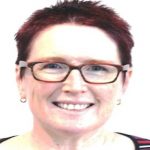 Maree has been a NAATI accredited interpreter for 31 years, and was the first Certified Conference Interpreter in in Australia in 2014 (Auslan to English direction). She has worked in primary, secondary and tertiary education settings, in legal contexts, police interviews, medical, sporting, employment, performance and conferences at local, state, national and international levels. Most of her current interpreting work is medical, mental health and conference interpreting, both face-to-face and via VRI.
Maree has also had international sign interpreting experience at two Deaflympics (Melbourne and Taipei), at the Deafness and Mental Health Congress in 2009, the Deaf Australia conference in 2011, at the United Nations in Geneva in 2013, the WFD Conference in Sydney in 2013 and the WFD Asia Region conference in Singapore in 2016.
Maree has been an interpreter educator since 1993, being employed TAFE Colleges in Brisbane and Sydney. She has been guest lecturer and course convenor at Macquarie University in the Post Graduate Diploma of Interpreting course in 2019 and 2020.
In 2001, she gained her PhD from Griffith University, Brisbane. Her doctoral thesis examined the prevalence and impact of overuse injuries on Auslan interpreters.
Maree has delivered professional development workshops interpreters in Brisbane, Sydney, Canberra, Melbourne, Perth, Lismore, Tweed Heads, and Auckland. She has facilitated workshops for Educational Interpreters in Melbourne, Townsville, Cairns, Townsville, Toowoomba and the Gold and Sunshine Coasts, since 2013, in both face to face and video conference modes.
Since 2015, she has worked as an Educational Interpreter mentor in the Far North Queensland, North Queensland, South East and Darling Downs education regions in Queensland.