Description
ASLIA has been working behind the scenes on updating the constitution in order for the association to better serve its members and engage with its industry stakeholders. Over many years, ASLIA has been working towards a unified way of working between National and its state and territory associations. ASLIA proposes that it is now time to formalise that process by adopting the new constitution, allowing us to work in a more streamlined and unified way.
We have an open Q&A session on Zoom for members to pose questions and comment on the changes.
You can find the proposed (draft) constitution here. If you would like to ask questions outside of the session please fill out this form. Questions can be posed in either written English or upload an Auslan video.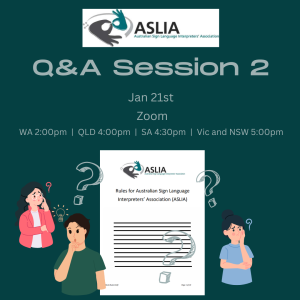 **Event details are Eastern Daylight Savings Time**